Painting a room is an inexpensive way to freshen it up or even give it a new look. But painting a bathroom can be trickier than painting other rooms in your house. There's a lot more maneuvering you have to do as you paint around mirrors, sinks, tubs, and toilets. And choosing the right paint finish is a must.
"We advise a satin or semi-gloss finish," says Consumer Reports' paint expert, Rico de Paz. "They're less likely to trap mold and are easier to clean than flat or eggshell finishes."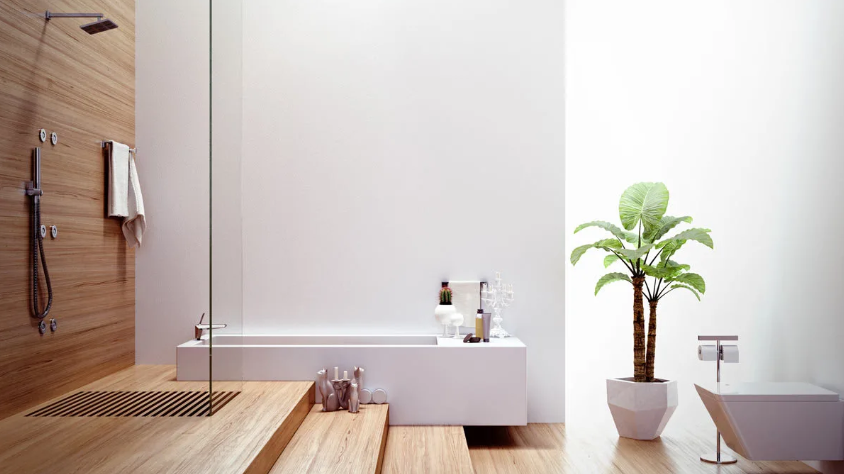 There's one thing you can do to make your job easier: Skip the primer. In CR's tests, we found that one coat of self-priming paint is plenty to get the job done.
How We Test Interior Paints
Using nontinted base paints (paint before color is added), we test how well each covers dark colors and resists stains. The results show whether a paint hides well enough to not require a primer, and also how well it stands up to wear and tear.
For the coverage test, we apply one consistent coat to cardstock that has been painted black, and wait for it to dry. Then we use a device called a colorimeter to measure how well the paint covers the black paint. We do this twice per paint sample and average the results.
For stain resistance, our testers apply paint to a plastic panel. After it dries, they apply two lines of soils—coffee and a soot-like substance—and allow them to dry. Then they wash the painted panels, and use a colorimeter to measure the color of the paint on the rinsed areas. The closer the cleaned portions are to the original coat, the more stain-resistant the paint.
Read on for advice on how to give your bathroom a flawless paint job, plus get the details on the top five paints from CR's tests. For information on all the paints we test, see CR's paint ratings.
Paint Like a Pro
Play with color. Paint manufacturer websites often have tools that allow you to download a photo of your room, then select wall colors until you find a look you like. Think about your vanity, too, and whether it needs a fresh coat of paint. For a bathroom next to a bedroom, consider a color that works well with the bedroom paint color, perhaps a shade that's lighter or darker. And if white is your go-to color, see "How to Pick the Right White Paint."
Pick the right finish. Satin is more durable and shinier than eggshell and is ideal for a bathroom. It's also easy to clean. Use it for the walls, ceiling, and even the trim, because many satin finishes are tougher than they once were. Semi-gloss is even tougher and a cinch to clean. It can be used on the walls, ceiling, trim, and vanity—if you don't mind a shinier look. A satin sheen draws attention to any imperfections on the walls (semi-gloss does so even more), so be sure to prep the walls to get them as smooth as you can.
Wash the walls first. New paint needs a clean, dry surface to adhere to. Existing mildew can prevent the new paint from properly sticking and can even bleed through the new coat. Remove mildew with a sponge dipped in a solution of one part bleach to three parts water. The room should be well-ventilated while you clean, so open a window or run the exhaust fan. Wipe down the surface with clean water and allow to dry before painting.
Protect what you aren't painting. With all their nooks and crannies, small bathrooms can be a challenge to paint. Apply painter's tape to the edges of areas you don't want painted. Use a sash brush with a tapered tip. Unlike bristles on a flat brush, the bristles on a sash brush are cut at a diagonal, making it easier to control.
Paint, then wait. Once you're done applying the paint, let it dry overnight before using the shower. Otherwise, any water that splashes up or beats down on the newly painted surface can cause the paint to soften and run. For more painting tips, check out "How to Paint a Room and Get It Right the First Time."