Sipping a glass of wine as they grill the perfect steak and chat with friends is bliss for many. Take this outside on a lovely day, and it's like you're on vacation. "It's beautiful when you can gather people around in your outdoor kitchen, whether you have a huge yard or small terrace," says Daniel Germani, a designer in Phoenix. Read on for Germani's and designer Nar Bustamante's top tips for a fantastic outdoor kitchen.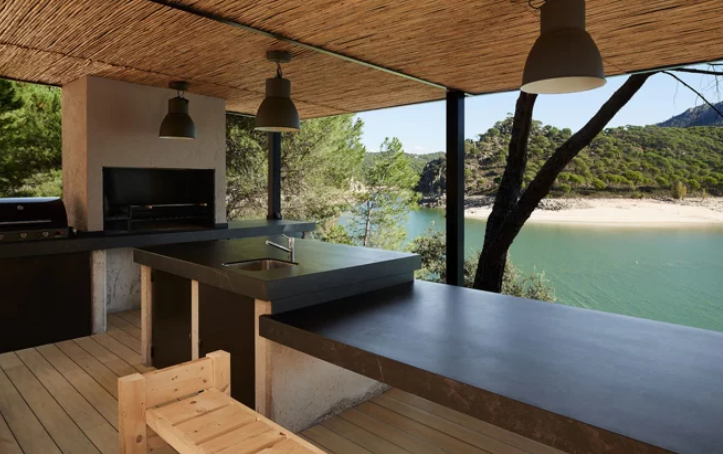 1. Plan the Layout for Maximum Convenience

When it comes to layout, both designers advise treating your outdoor and indoor kitchens the same. "Think about how you work inside — we can achieve that outside," Germani says. Place your fridge close to the cooking area for easy access, and give yourself plenty of room for prepping, serving and dining.

"Add more countertops than you would think, because people come with big platters and everything is more picnic-style outdoors," says Bustamante, owner of Nar Design Group in Sacramento, California. You can just imagine trays of grilled meats and summer fruits filling up the ultracompact-surface countertops seen here. He also recommends locating your outdoor kitchen near the indoor living room, not the interior kitchen. That way, people relaxing inside can easily flow outside for alfresco dining.

Make it easy to clean. "Put in a hose bib and a center drain so you can easily wash the kitchen down," Bustamante says.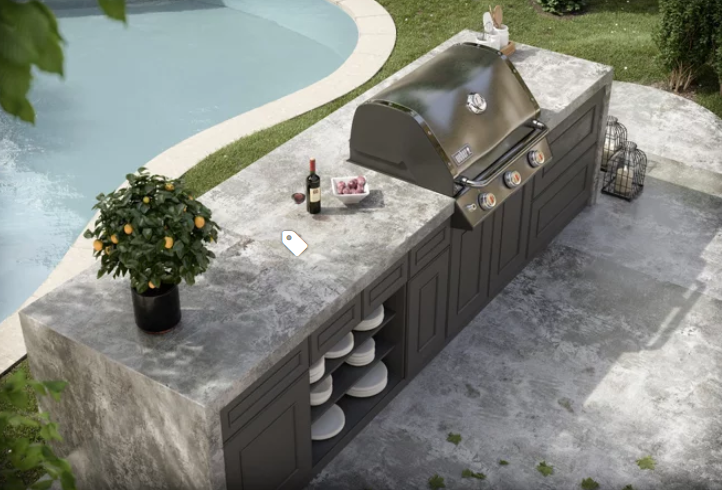 2. Install Dazzling, Durable Countertops

Countertops are a great way to make a design statement outside. "I'm liking bolder colors right now, such as matte green and polished blue," Germani says. Whatever aesthetic you prefer, select a countertop built to last. Both designers use ultracompact surfaces, such as the industrial-style ones seen here. "You can do anything you want with it, indoors and out," Bustamante says of the material. It's stain-, chemical-, heat-, UV-, scratch- and abrasion-resistant. "There are no epoxy or resins [which can break down]; it's just compressed, baked minerals," Germani says.

Extend the look. Bustamante has an ultracompact-surface outdoor dining table. "I don't care about salmon grease or barbecue sauce. We just hose it down," he says. Germani suggests using the material for outdoor flooring as well.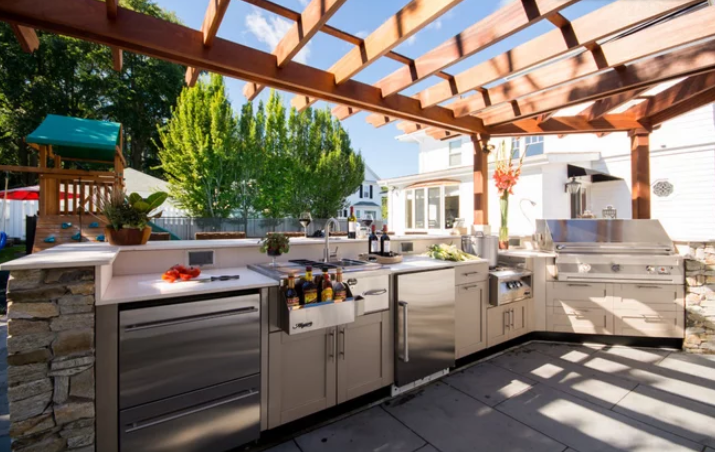 3. Tailor Appliances to Your Alfresco Feasts

Whether you envision grilling up burgers, smoking brisket or baking pizza, select appliances that suit your outdoor dining preferences. Install a direct gas feed if you can, Bustamante advises, to avoid having to swap out tanks. If that's not an option, try to place the tanks away from the barbecue area and run a gas line to the grill. "Underneath the cooking area is where everything drips, and it's harder to get to," Bustamante says.

Other things to consider? "I think having a refrigerator is super handy," Germani says. Having something to heat up water for rice or pasta is nice too, even if it's just a single burner, Bustamante adds.

Shine a light. Remember task lighting, whether built into your appliances or portable. The rest of the lights should be for ambiance. "At night, it's all about the mood," Bustamante says.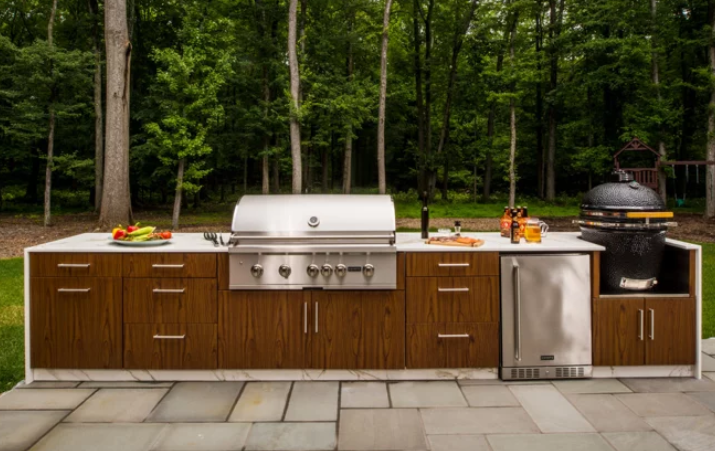 4. Pop In Some Storage

Just as with an indoor kitchen, storage supports an organized cooking and dining experience outside. Stash items such as cutting boards, large platters and a set of knives to save you from running back and forth, as well as napkins and compostable plates and cups. "You can leave drinks in the fridge, but I wouldn't store any food outside," Germani says. As for the cabinets themselves, he uses stainless steel: "They're indestructible." Panel them in thin (4- or 8-millimeter-thick) ultracompact surfaces — try a veined-stone style as seen on the counters here — or go with a powder coating for added panache.

Use them for more than kitchenware. Store pillows, blankets and candles in your outdoor cabinets too.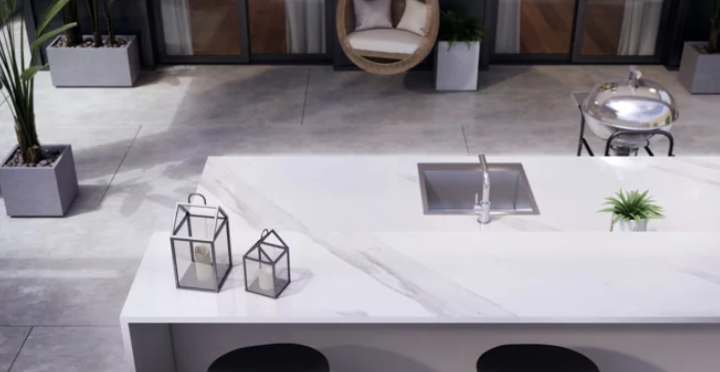 5. Remember a Sink and Shade

Cooking can be a messy, hot business, so spring for a deep sink and some shelter. "The sink is definitely a must," Germani says; it will let you easily rinse and wash items while next to the grill. Bustamante's team installs expansive sinks with interchangeable workstations for prepping, serving and cleaning up.

Shade is equally important, and Bustamante always tries to add a vine to his structures. "There's nothing that keeps a space cooler than plants that carry moisture, and it makes it feel more like an elegant restaurant," he says. Add ceiling fans too.
Article courtesy of Houzz