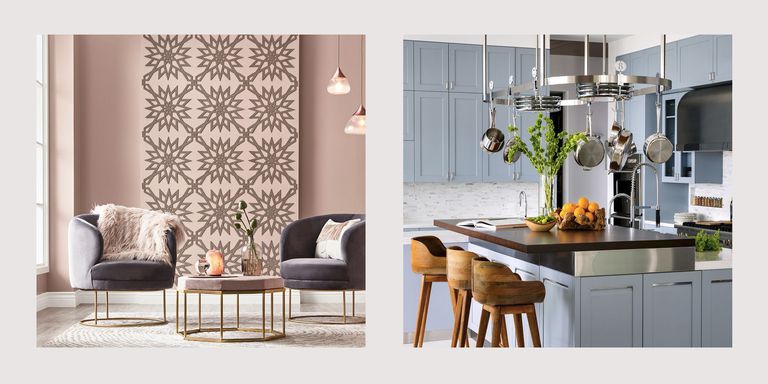 Last year was all about bringing an edgier palette into the home–with vibrant reds, modern metallics, and variations of the statement black accent wall. Unlike 2018's color trends, 2019 is taking a more mindful, lifestyle-based approach to the development of new shades. Most paint brands have released their colors of the year, including Benjamin Moore, PPG Paints, Sherwin Williams, and of course, Pantone's 2019 Color of the Year: Living Coral. From powerful aquas to soft terracottas, companies are connecting the dots between consumers' home lives, mental demands, and digital engagement, which inspired many of the color picks this year.
If you're looking to kick-start your home refresh by indulging in new hues, check out 2019's top color trends, along with how to use them in your own home now.
1. Woodland Shades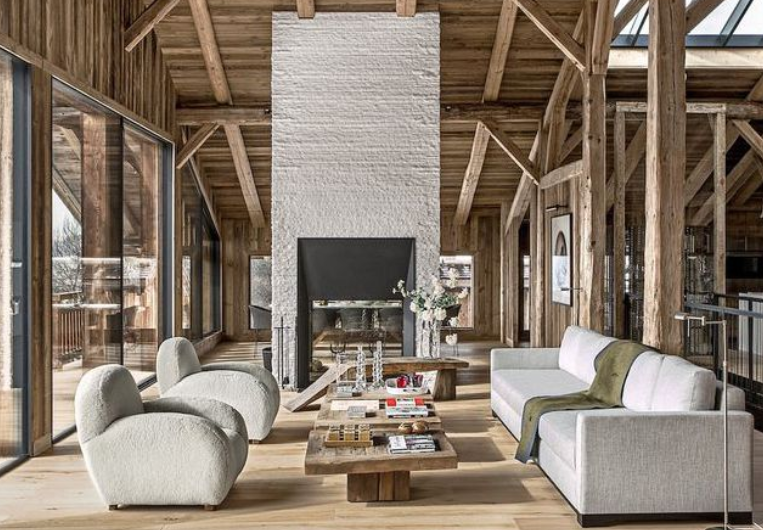 "While nature is a common inspiration for home décor, in 2019 we will see a shift from oversized botanicals to the woodlands, with mushroom grays and fern-inspired colors. Mushrooms will also continue to be a key shape in the home," says Sue Wadden, director of color marketing at Sherwin Williams. "Their earthy color–gray blended with warm brown–gives off an old world, naturalist feel."
2. Energizing Coral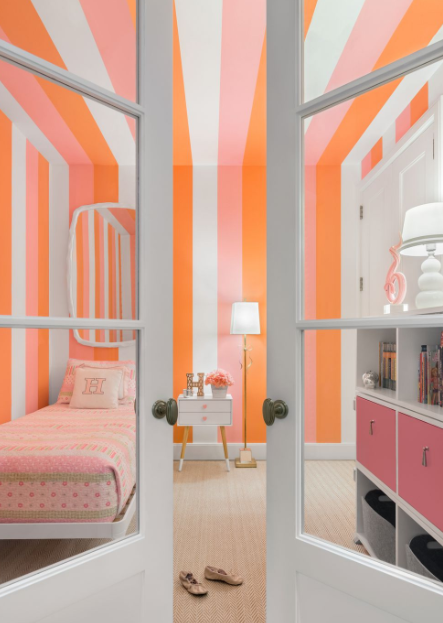 It only makes sense for Pantone's 2019 color of the year–Living Coral–to be on your radar when you begin your home revamp. According to interior designer Carolyn Pressly, "We'll be seeing more hopeful and optimistic colors in the home, as evidenced by the recent selection of living coral, Pantone's color of the year. Instead of using coral literally, you can separate it into its orange and pink counterparts. In this windowless office converted into a little girl's room, the mood instantly becomes energizing and uplifting."
3. Hunter Greens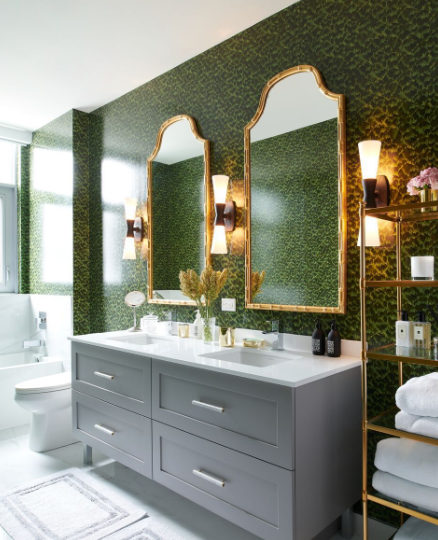 According to interior designer Becky Shea, hunter greens are a great choice for 2019. "Hunter green holds a sultry and worldly value to it, it's intrinsic in nature and all of life. It's timeless in every respect, and works beautifully with natural elements and neutral tones. What we also love about this color is how seamlessly it transitions between millwork, walls, furniture and accessories. Its gender neutrality also holds a special place in my heart, there's no definition of a home feeling more masculine or feminine; it's the perfect balance of each," she says.
4. Saturated Moody Hues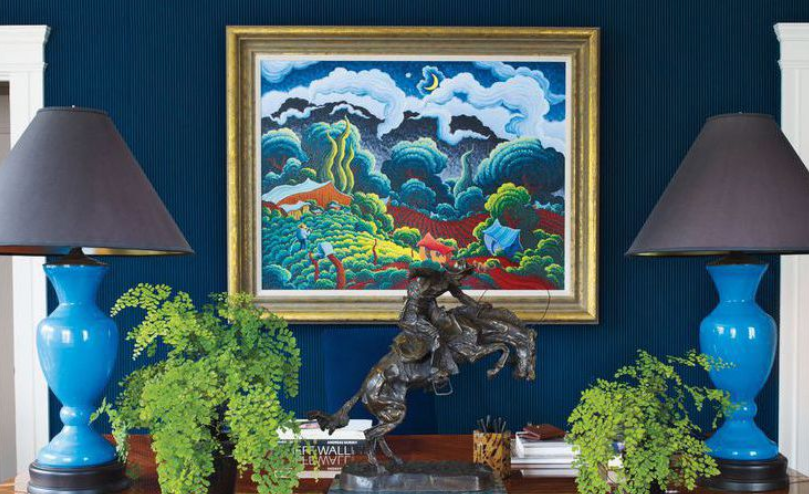 "Currently, I'm in love with the deep saturated colors," says interior designer Keita Turner. "Beau Green, Kendall Charcoal, Hale Navy and Hunter Green. These darker moody colors are perfect for custom built-ins and kitchen cabinetry. I would ideally use them in a room with an abundance of natural light."
5. Pale Pink Colorways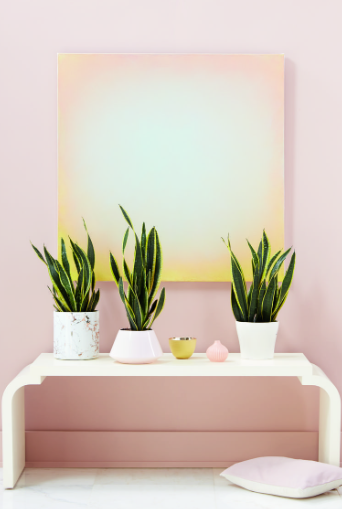 Pale pinks are prevailing in 2019 due to their neutral properties and compatibility with other shades. Interior designer Barbara Schmidt explains that "Monochromatic colorways–like this pink desert sand shade–will be popular in 2019. It can be mixed with an abundance of white or a lemon yellow for the ideal look."
6. Digitally Inspired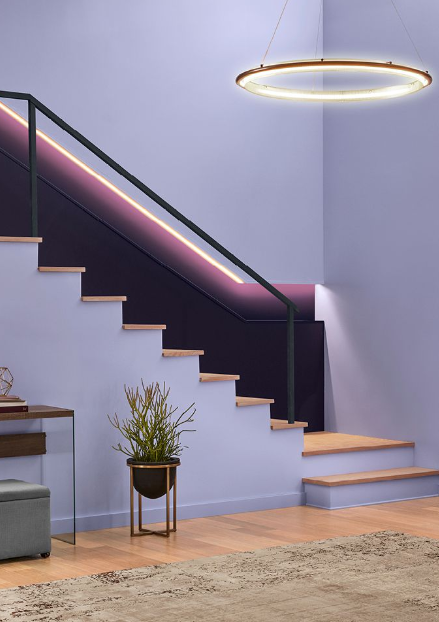 According to the Senior Color Designer Sue Kim of Valspar, "Smart technology in the home is driving the color experience differently." Because of this, we will see higher intensity shades that mimic the edge of artificial light in a way that is "strangely familiar" (and obviously gorgeous).
7. A Contemporary Twist on Hunter Greens
Deep greens that are inspired by (but not directly reflective of) nature will bring the healing properties of the outdoors into the home, without feeling overly arboreal. Here, PPG's color of the year "Night Watch" fills a room with a welcoming richness.
8. Misty Blues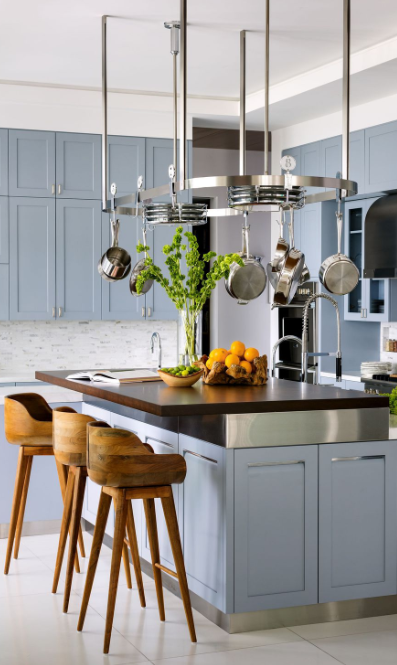 In 2019, we're going to see blues with a softened mistiness and haze. This moody blue has a calming grey undertone that promotes a more serene energy in the home. According to Kim, blues can be given "a touch of purple to free our thinking, with hints of gray to ground us." They selected Seattle Haze as one of their colors of the year.
9. Optimistic Yellows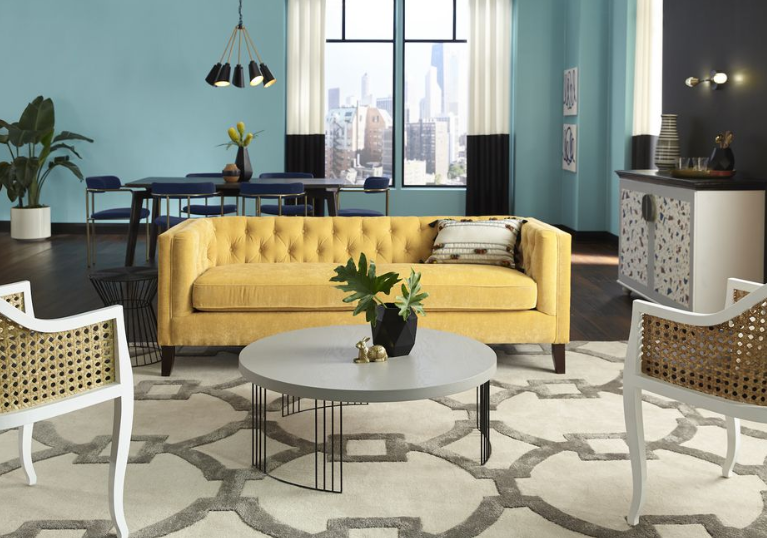 In 2019 we'll see a rise in colors that are associated with optimism, like bold yellows and oranges. Sherwin Williams' Afternoon, a rich and inviting yellow, pairs beautifully with cool blues, beiges, and pinks.
10. Off Cream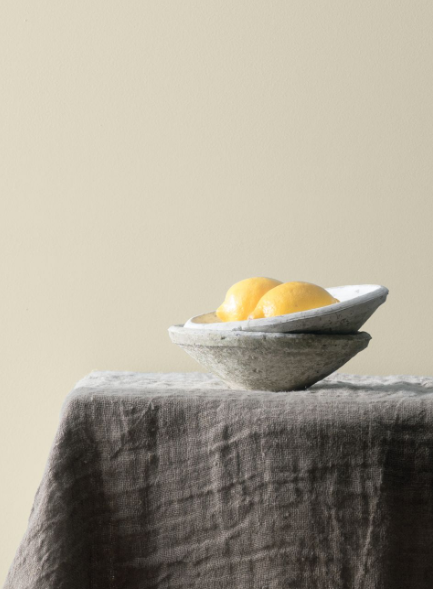 The minimalist movement has encouraged many modern homemakers to live a more clutter free, thoughtful life. With this, shades associated with minimalism–creams, beiges, and whites–are being incorporated into many home palettes. Cream shades with bolder, more colorful undertones are desired for their inherent simplicity that can be manipulated with different types of lighting. Here, see Benjamin Moore's Balboa Mist, a timeless cream that shifts richer or deeper with shadow and brightness.
Click here to see the other 10 trending colors!
Article courtesy of www.elledecor.com / January 2019