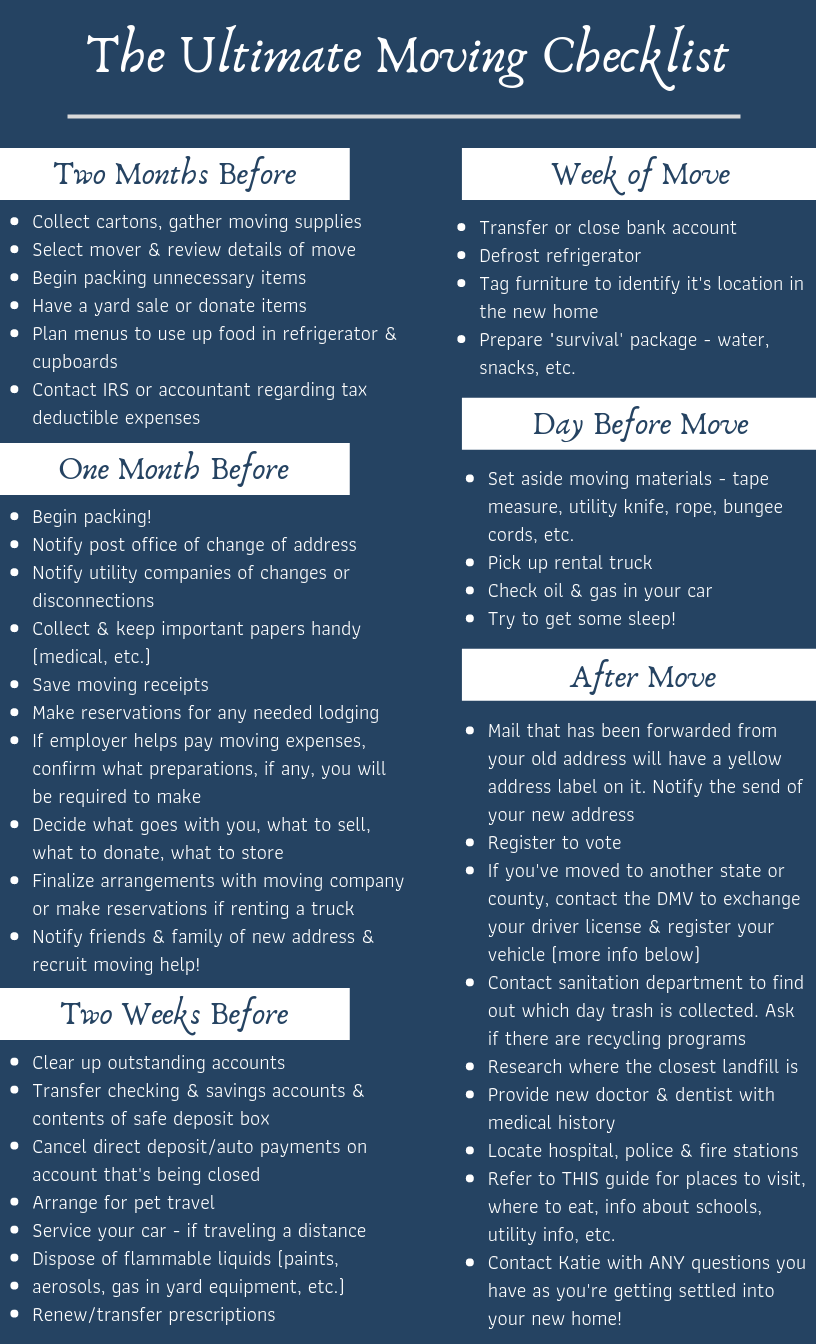 Two Months Before
– collect cartons, gather moving supplies
– select mover & review details of move
– begin packing unnecessary items
– have a yard sale or donate items
– plan menus to use up food in refrigerator & cupboards
– contact IRS or accountant regarding tax deductible expenses
One Month Before
– being packing!
notify post office of change of address
– notify utility companies of changes or disconnections
– collect & keep important papers handy (medical records, etc.)
– saving moving receipts
– make reservations for any needed lodging
– if employer helps pay moving expenses, confirm what preparations, if any, you will be required to make
– decide what goes with you, what to sell, what to donate, what to store
– finalize arrangements with moving company or make reservations if renting a truck
– notify friends & family of new address & recruit moving help!
Two Weeks Before
– clear up outstanding accounts
– transfer checking & savings accounts & contents of safe deposit box
– cancel direct deposit/auto payments on account that's being closed
– arrange for pet travel
– service your car – if travel a distance
– dispose of flammable liquids, paints, aerosols, gas in yard equipment, etc.
– Renew/transfer prescriptions
Week of Move
– transfer or close bank account
– defrost refrigerator
– tag furniture to identify it's location in the new home
– prepare 'survival' package – water, snacks, etc.
Day Before Move
– set aside moving materials – tape measure, utility knife, rope, bungee cords, etc.
– pick up rental truck
– check oil & gas in your car
– try to get some sleep!
After Move
– main that has been forward from your old address will have a yellow address label on it. Notify the sender of your new address
– register to vote
– if you've moved to another state or county, contact the DMV to exchange your driver license & register your vehicle (see our relo guide for details!)
– contact sanitation department to find out which day trash is collected. Ask if there are recycling programs
– research where the closest landfill is
– provide new doctor & dentist with medical history
– locate hospital, police & fire stations
– refer to THIS guide for places to visit, where to eat, info about schools, utility info, etc.
– contact Katie with ANY questions you have as you're getting settled into your new home! 770.710.5911