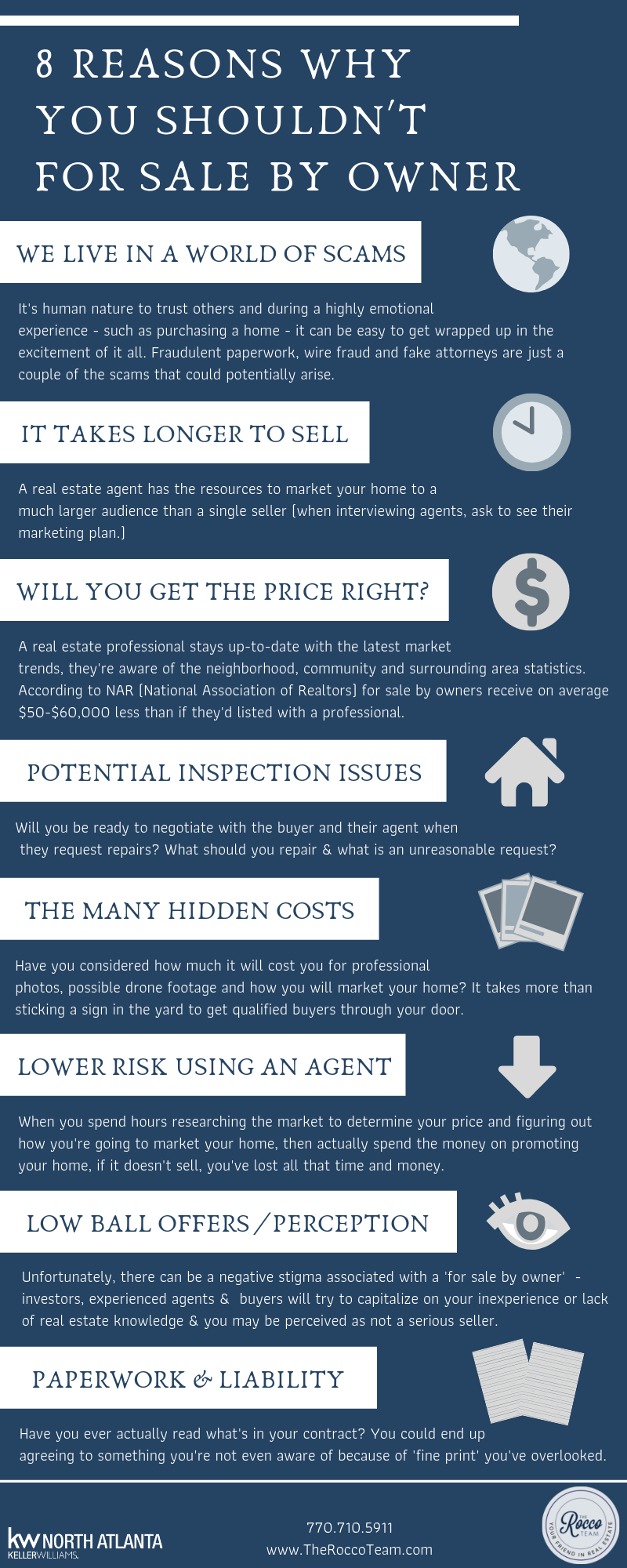 8 Reasons Why You Shouldn't For Sale By Owner
1. We Live in a World of Scams
It's human nature to trust others and during a highly emotional experience – such as purchasing a home – it can be easy to get wrapped up in the excitement of it all. Fraudulent paperwork, wire fraud and fake attorneys are just a couple of the scams that could potentially arise.
2. It Takes Longer to Sell
A real estate agent has the resources to market your home to a much larger audience than a single seller (when interviewing agents, ask to see their marketing plan).
3. Will You Get the Price Right?
A real estate professional stays up-to-date with the latest market trends, they're aware of the neighborhood, community and surrounding area statistics. According to NAR (National Association or Realtors) for sale by owners receive on average $50-$60,000 less than if they'd listed with a professional.
4. Potential Inspection Issues
Will you be ready to negotiate with the buyer and their agent when they request repairs? What should you repair & what is an unreasonable request?
5. The Many Hidden Costs
Have you considered how much it will cost you for professional photos, possible drone footage and how you will market your home? It takes more than sticking a sign in the yard to get qualified buyers through your door.
6. Lower Risk Using an Agent
When you spend hours researching the market to determine your price and figuring out how you're going to market your home, then actually spend the money on promoting your home, if it doesn't sell, you've lost all that time and money.
7. Low Ball Offers / Perception
Unfortunately, there can be a negative stigma associated with a 'for sale by owner' – investors, experience agents and buyers will try to capitalize on your inexperience or lack of real estate knowledge and you may be perceived as not a serious seller.
8. Paperwork and Liability
Have you ever actually read what's in your contract? You could end up agreeing to something you're not even aware of because of 'fine print' you've overlooked.