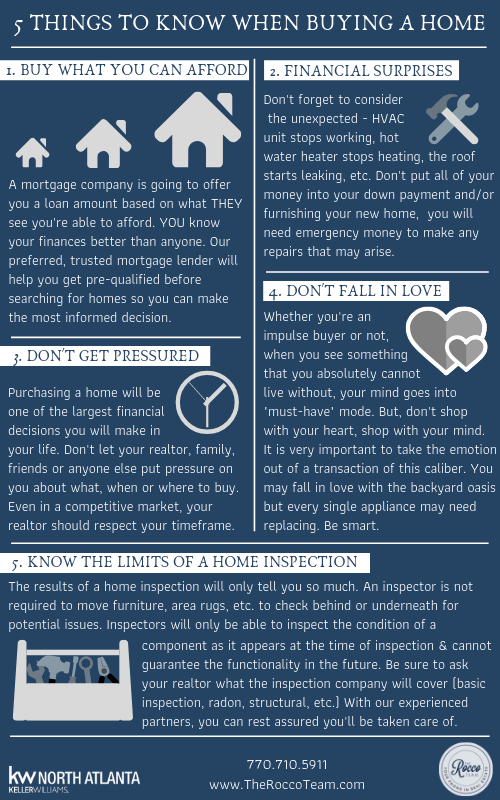 1. Buy What You Can Afford
A mortgage company is going to offer you a loan amount based on what THEY see you're able to afford. YOU know your finances better than anyone. Our preferred, trusted mortgage lender will help you get pre-qualified before searching for homes so you can make the most informed decision.
2. Financial Surprises
Don't forget to consider the unexpected – HVAC unit stops working, hot water heater stops heating, the roof starts leaking, etc. Don't put all of your money into your down payment and/or furnishing your new home, you will need emergency money to make any repairs that may arise.
3. Don't Get Pressured
Purchasing a home will be one of the largest financial decisions you will make in your life. Don't let your realtor, family, friends or anyone else put pressure on you about what, when or where to buy. Even in a competitive market, your realtor should respect your timeframe.
4. Don't Fall in Love
Whether you're an impulse buyer or not, when you see something that you absolutely cannot live without, your mind goes into 'must-have' mode. But, don't shop with your heart, shop with your mind. It is very important to take the emotion out of a transaction of this caliber. You may fall in love with the backyard oasis but every single appliance may need replacing. Be smart.
5. Know the Limits of a Home Inspection
The results of a home inspection will only tell you so much. An inspector is not required to move furniture, area rugs, etc. to check behind or underneath for potential issues. Inspectors will only be able to inspect the condition of a component as it appears at the time of inspection & cannot guarantee the functionality in the future. Be sure to ask your realtor what the inspection company will cover (basic inspection, radon, structural, etc.) With our experienced partners, you can rest assured you'll be taken care of.